With open rates of up to 80% and Click-Through-Rates (CTR's) of over 60% you can't afford not to use Chatbots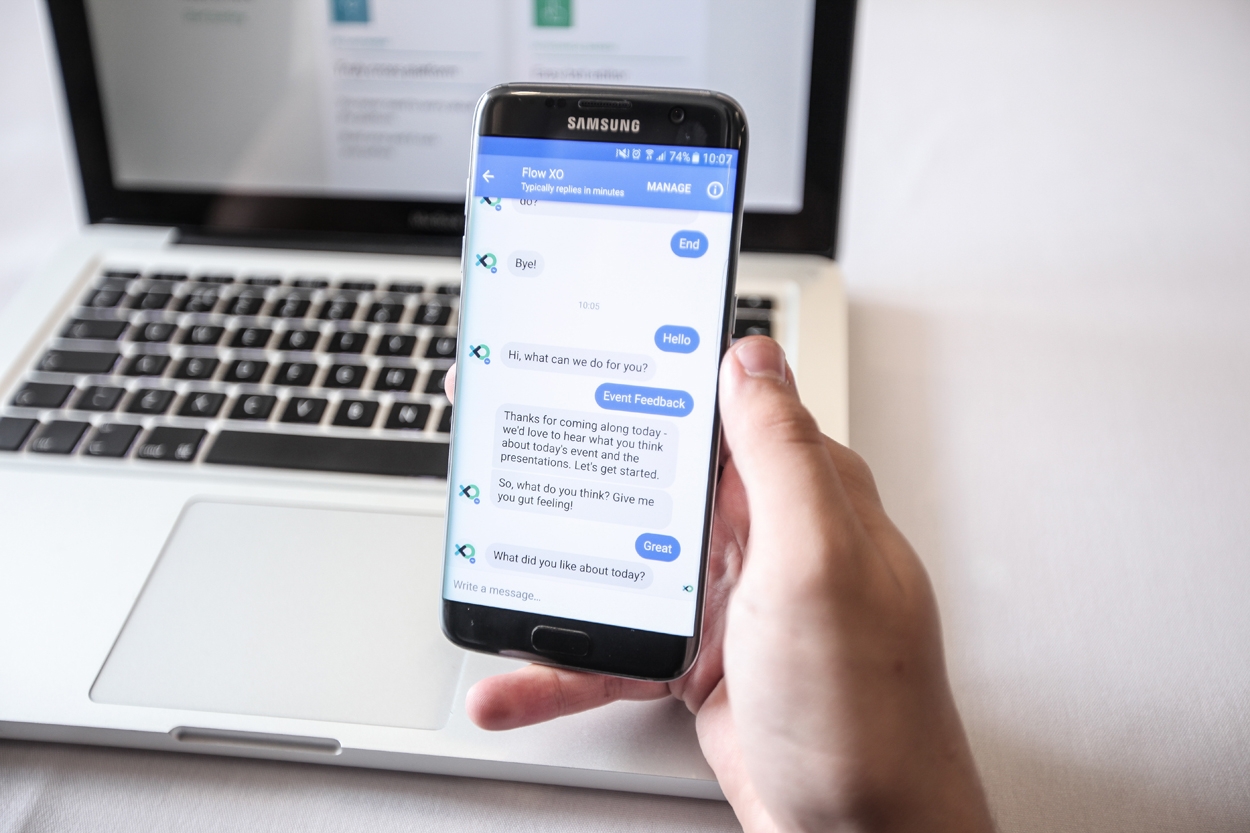 What is a Chatbot?
According to Oxford Dictionaries, a Chatbot is: "A computer program designed to simulate conversation with human users, especially over the Internet."
A Chatbot is an artificial intelligence (AI) software that can simulate a conversation (or a chat) with a user in natural language through messaging applications, websites, mobile apps or through the telephone.
A Chatbot is often described as one of the most advanced and promising expressions of interaction between humans and machines. However, from a technological point of view, a Chatbot only represents the natural evolution of a Question Answering system leveraging Natural Language Processing (NLP).
Why do I need a Chatbot?
Both startups and savvy companies are now incorporating interactive agents into their daily operations, communication with customers and sales processes.
Chatbots can help to…
Improve customer service. It is the best option for those who don't want their customers to:
Wait for operators answer -"Stay on the line, your call is very important to us" is always annoying, isn't it? Search for an answer in the FAQ's. As a rule, users don't have time for scrolling through dozens of pages to find an answer.
Streamline the shopping process. It only takes seconds to write what you want using a Chatbot and this will then send the information to the relevant department for processing.
Personalize communication. Chatbots can answer specific questions from visitors instead of displaying a long lists of information. The more attention a customer gets, the more comfortable they feel and the greater their desire is to buy something!
Improve response rates. About 90% of questions sent to Facebook business pages remain unanswered. Chatbots respond to 100% of messages and convert more visitors into leads or buyers

They're Extremely Cost-Effective
One of the biggest advantages of using Chatbots for lead generation is that they're extremely cost-effective.
Investments are fairly minimal — and when you compare them to the returns your Chatbot can generate in the form of leads and sales, they're worth every penny.
Considering that Chatbots can yield similar results at only a fraction of the cost, they're the clear winner when it comes to offering assistance in a budget friendly way.
They Allow You to Collect Leads at Any Time
Each of your potential customers takes their own path during the decision-making process.
They need to evaluate their options on their own time, weigh the advantages and disadvantages of each against their own needs and priorities, and follow their own timeline for purchase and implementation.
This process can take anywhere from a few days to a few months. But as soon as they're ready to take action, your company needs to be prepared to help them take the next step.
Once you launch your Chatbot, you can passively generate leads, even when your entire team is busy with other tasks, or when they're out of the office during evenings and weekends.
This way, you never have to worry about missing out on a valuable lead simply because no one was available to walk them through the conversion process.
Instead, you can be confident that your site serves as a powerful lead generation tool and can do the initial work required to convert visitors, so that your team can step in and help those visitors with the next steps as soon as they're available.
They Create More Engaging Conversion Experiences
Generating leads is one of the most important goals of any lead-based company's website. But in most cases, they rely on standard forms to accomplish this goal.
These forms all look generally the same, with fields for the user's name, email address, phone number, and possibly a few other details.
And while filling them out is simple, it's not exactly the most exciting process. That's especially true of tedious, lengthy forms that ask for a seemingly unnecessary number of details before a user can submit it.
When you use a Chatbot to collect leads, it can transform the process of converting from filling out a generic form to having a "conversation" with your company.
They Eliminate Wait Times
Another significant advantage of using Chatbots for lead generation is that they eliminate wait times for visitors altogether.
This kind of immediacy is impossible to achieve on any channel that's staffed by human sales or support staff.
Even the most efficient teams sometimes get too busy with inquiries to instantly reply to every customer, which can lead to delays in response time ranging anywhere from a few minutes to a few hours — or even longer, depending on the channel.
For companies that only allow customers to contact them via email or by phone, for example, it isn't uncommon to wait until the next day for a response or return call.
Fortunately, on-site chat can drastically reduce that time frame. And customers appreciate it.
They Free Up Your Team for More Complex Needs
Some businesses avoid integrating Chatbots into their websites because they believe that these bots are intended to take the place of their sales and support staff.
But that's not the case at all.
In reality, Chatbots are most effective when used as a tool that reduces your team's workload and helps them allocate their time more efficiently.
And that's exactly what a lead generation Chatbot can do.
So if you're looking for a way to boost your lead generation power, a Chatbot could be the perfect solution.
We team up with only the best in everything we do. Our Digital Marketing Partner, CrackerJack Agency has recently been named as one of the "Best Marketing Agencies That Build Bots Today" right here in the USA! (Source: Botmakers)